Finger Puppet - Bigfoot Feet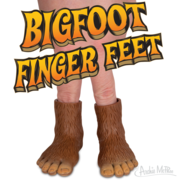 IN SEARCH OF… YOUR OWN HAND Bigfoot is famous for his namesake giant feet. What is your hand famous for? Nothing? Why not give it some Sasquatch tootsies? Take your commonplace hand and turn it into a mysterious cryptozoological man-beast of the forest. Each foot is 2-3⁄4" (7 cm) long and made of soft vinyl. Just like the real Bigfoot, there are left and right feet. 48 count. Bulk. Illustrated display box.
Product Size: 2.75"
Package Size: None
Package Type: Bulk
Bilingual Packaging: Unknown
Pegable: No
Shelvable: Yes
Display Type: Counter Display Unit
Display Size: 7"x 9"x 8"
Battery Type: None
Age Group: None
Master Qty: 768
Inner Qty: 48
UPC Code:
UPC Code on Product: Unknown